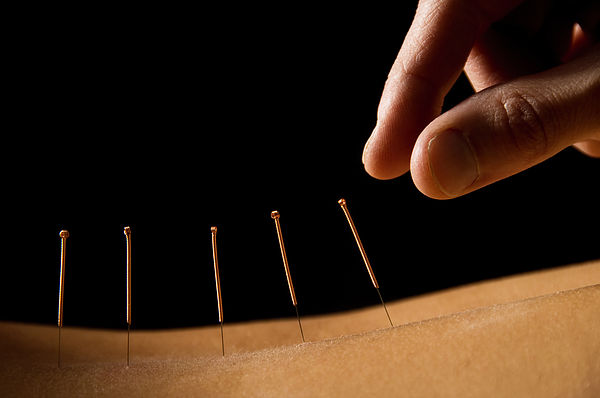 Posted on
As you will gather from our name, we are all about increasing wellness and decreasing pain for our clients. We have a diverse and carefully-curated offering when it comes to therapies that reduce pain at our Newcastle studio, one of which is the well-known (yet little-understood) technique known as acupuncture. But what is acupuncture? And how do we use it as part of our physiotherapy offering?
Start at the end
As you'll probably be most interested in what benefits an acupuncture session at Gosforth Physio & Wellness can bring, let's look at the therapy back-to-front, starting with outcomes. When used to treat a wide variety of pain and stress-related symptoms, efficacy of acupuncture as a form of relief has been found in everything from postoperative dental pain to headaches, menstrual cramps, chronic back pain, tennis elbow, fibromyalgia, myofascial pain and osteoarthritis. Some people turn to acupuncture for help with a specific symptom or condition whilst others elect to have treatment to help maintain good levels of general wellbeing. We offer it as part of our physio provision in order to help alleviate pain, but many people return to acupuncture again and again because they find it so beneficial and relaxing. Many doctors are now recommending acupuncture as a treatment to reduce stress, balance hormones, and ease the anxiety and pain of pregnancy and labour, and early studies show that it can even relieve age-related cognitive decline symptoms, so the wealth of newly-discovered benefits of acupuncture continues to grow.
The theory behind acupuncture
With its origins in traditional Chinese medicine practices, acupuncture is a technique for balancing the flow of energy or life force, and that energy can be reached by stimulating small specific channels on the human body. There is a flow, known as 'qi' (or "chi") that is located in certain
meridians
throughout the body. Chi is believed to be what separates the sick from the healthy — and when chi is not balanced, negative states detrimental to wellness such as illness, pain, poor sleep, and fatigue can all occur.
But what is it in practice? Other than being stuck with needles?
Everyone knows that acupuncture involves needles, with comical images of human-porcupines being conjured up by those with vivid imaginations and no real knowledge of the subject. So let us explain what really occurs during one of our acupuncture sessions. All acupuncture practices involve the stimulation of specific points on the body using a variety of techniques, usually needles.   Our treatment involves a trained practitioner carefully inserting very fine, sterile, disposable metal needles into specific points (or 'acupoints') on the body which have been found to stimulate pain relief. Normally about 10 to 20 thin needles are used at one time. The needles are small enough to fit inside of a normal-sized needle that would be used to take blood (very thin, in other words) making the process fairly painless for most people. Occasionally there may be slight pain or bruising at a needle site, but research shows that acupuncture is a very safe form of treatment and produces very few side effects, so you've no need to feel apprehensive about this treatment.
Your first treatment will involve a consultation where you can discuss with your acupuncturist your medical history, lifestyle and any prescription medication you might take to ensure acupuncture is right for you.
If you're interested in finding out more or are ready to book your first acupuncture consultation and treatment, get in touch with us today.